Published books by Jodi Picoult
It is estimated that there are 40 million books by Jodi Picoult in print —in 35 countries.
Which of Jodi's books are you reading?
Jodi Picoult, 50, is the bestselling author of twenty-three novels: Songs of the Humpback Whale (1992), Harvesting the Heart (1994), Picture Perfect (1995), Mercy (1996), The Pact (1998), Keeping Faith (1999), Plain Truth (2000), Salem Falls (2001), Perfect Match (2002), Second Glance (2003), My Sister's Keeper (2004), Vanishing Acts (2005), The Tenth Circle (2006), Nineteen Minutes (2007), Change of Heart (2008), Handle With Care (2009), House Rules (2010), Sing You Home (2011), Lone Wolf (2012), The Storyteller (2013), Leaving Time (2014), and the YA novels Between The Lines (2012), and Off The Page (2015), co-written with her daughter Samantha van Leer. Her last eight novels have debuted at number one on the New York Times bestseller list. Her highly anticipated novel-in-progress, Small Great Things, will be released this fall as follows: October 11, 2016 (US/Canada), October 12, 2016 (Australia), and November 22, 2016 (UK).
What's new?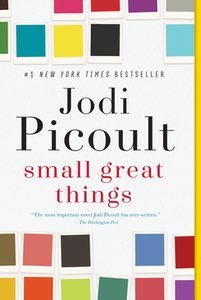 Ruth Jefferson is a labor and delivery nurse at a Connecticut hospital with more than twenty years' experience. During her shift, Ruth begins a routine checkup on a newborn, only to be told a few minutes later that she's been reassigned to another patient. The parents are white supremacists and don't want Ruth, who is African American, to touch their child. The hospital complies with their request, but the next day, the baby goes into cardiac distress while Ruth is alone in the nursery. Does she obey orders or does she intervene? …more
Following the success of Between the Lines, Jodi Picoult and her daughter and co-writer, Samantha van Leer, teamed up for their second young-adult (YA) novel, Off The Page. It's a tender and appealing romantic novel filled with humor, adventure, and magical relationships. Sixteen-year-old Delilah is finally united with Oliver—a prince literally taken from the pages of a fairy tale. There are, however, complications now that Oliver has been able to enter the real world. To exist in Delilah's world, Oliver must take the place of a regular boy. …more