The Pact
Synopsis
In this contemporary tale of love and friendship, Jodi Picoult brings to life a familiar world, and in a single terrifying moment awakens every parent's worse fear: We think we know our children… but do we ever really know them at all?
For eighteen years the Hartes and the Golds have lived next door to each other, sharing everything from Chinese food to chicken pox to carpool duty-- they've grown so close it seems they have always been a part of each other's lives. Parents and children alike have been best friends, so it's no surprise that in high school Chris and Emily's friendship blossoms into something more. They've been soul mates since they were born.
So when midnight calls from the hospital come in, no one is ready for the appalling truth: Emily is dead at seventeen from a gunshot wound to the head. There's a single unspent bullet in the gun that Chris took from his father's cabinet-- a bullet that Chris tells police he intended for himself. But a local detective has doubts about the suicide pact that Chris has described.
The profound questions faced by the characters in this heart-rending novel are those we can all relate to: How well do we ever really know our children, our friends? What if…? As its chapters unfold, alternating between an idyllic past and an unthinkable present, The Pact paints an indelible portrait of families in anguish… culminating in an astonishingly suspenseful courtroom drama as Chris finds himself on trial for murder.
With this riveting psychological drama, Jodi Picoult explores the dynamics of intimate relationships under stress-- from the seemingly inexplicable mind of a teenager to the bonds of friendship and marriage. Few writers have such a gift for evoking everyday life coupled with the ability to create a level of dramatic tension that will keep you up reading late into the night. The Pact is storytelling at its best: wonderfully observed, deeply moving, and utterly impossible to put down.
What others are saying about The Pact…
A Featured alternate selection of the Literary Guild, a selection of Doubleday Book Club. Australian edition (Allen & Unwin, 1999) reached the bestseller list.

"Engrossing… The Pact is compelling reading, right up to the stunning courtroom conclusion. Bottom line: Picoult's deft touch makes this her breakout novel."

—PEOPLE magazine

"Picoult is a writer of high energy and conviction who has, in her fifth novel, brought to life a cast of subtly drawn characters caught up in a tragedy as timeless and resonant as those of the Greeks or Shakespeare… this psychologically shrewd tale is as suspenseful as any best-selling legal thrilled… she forges a finely honed, commanding, and cathartic drama."

—Booklist

"As did Judith Guest in Ordinary People, Jodi Picoult captures the ripple effect that occurs after the sudden, violent death of a promising youngster in her captivating fifth novel, The Pact… Scenes from Chris's trial are particularly compelling, more personal and emotionally resonant than anything from John Grisham."

—The Raleigh News & Observer

"From all angles, this is an outstanding story… a wake-up call and an unforgettable experience."

—The Concord Monitor

"The novelist displays an almost uncanny ability to enter the skins of her trouble young protagonists."

—New York Times

"Jodi Picoult's fifth novel, The Pact, is so good that we can't put it down… It is suspenseful, intelligently written, topical."

—Detroit Free Press

"… an affecting story of obsession, loss, and some of the more wrenching varieties of guilt. A moving story, mingling elements of mystery with sensitive exploration of a tragic subject."

—Kirkus Reviews
A conversation with Jodi about The Pact
The Inspiration:
In my previous life, before I was a novelist, I was an English teacher. The year I was teaching eighth grade, I was 25 years old – the youngest teacher by far in the school. I had a hundred kids…and one little girl was suicidal. We all knew – her parents, her guidance counselor, and her four subject teachers. It was decided that all of us would work hard to keep her focused, and present. My job, as the English teacher, was to get her to write in a journal and to meet with her daily after school to talk about what she'd written.
I got pregnant that year, and left teaching to have my first son, Kyle. My husband and I moved out of state; and my first novel was published. I embarked on a new career…but I never forgot about that student. I never forgot what it felt like to be someone else's lifeline…even if there were other people who were towing that line of responsibility beside me. And I knew, when I started to write my fifth book, that my subject matter was going to involve teen suicide.
I wanted to write the anti-Romeo and Juliet story: the families that are too close, insteady of enemies -- and that still wind up hurting their star-crossed children as a result. When I started to conceive of the book, Emily was the one who was going to be left behind after an aborted suicide pact…and this was going to be a character study novel, one that looked at survivor's guilt. My first research stop was to my local police department, where the chief looked at me and said, "OK, remind me…who's the one who's still alive? The boy or the girl?
"The girl," I said.
He shrugged. "Huh. Because, you know, if it was the guy…and he was bigger and stronger…we'd probably book him on charges of murder until we could prove otherwise."
I just stared at him. What if, I wondered, Chris was the one who was alive at the start of the book, instead of Emily? What if he lied to you at the beginning of the book…so that you didn't really know whether he was telling you the truth about anything that had happened that night? Suddenly I no longer had a character study on my hands…I had a page turner.
I hear very often from people who have to put THE PACT down because the ages of their children are too close to the ages of the kids in the novel – and I always say that's all right, that you'll be able to come back to it a year or two later. I also hear from parents who say that they've used the book as a springboard for talking about teen depression and suicide with their kids…a touchy subject they didn't really know how to approach. But I think the comments I'm most touched by come from teenagers who read this book – and there are huge battalions of them. They say that Chris and Emily are real teenagers, not the phony ones who usually inhabit adult novels. They say that they've had a love like Chris and Emily did, or a heartache. And a few have written to say that, like Emily, they've thought about suicide…but after reading THE PACT, they don't want it to come to that…and so they're going to tell someone how they're feeling.
When you write fiction, you don't ever really expect to change someone's real life. To know that THE PACT has done just that – maybe even saved a couple – is really humbling.
I don't know whatever happened to the eighth grade girl I taught so long ago. I've heard, from other teachers, that she did graduate from the school system and go off to college. I don't know if she still struggles with depression. But I hope it would make her happy to know that she is the one who planted the seed in my mind that grew into this garden, and maybe even indirectly was the reason another teenager years later took the time to stop and smell the flowers.
The Research:
The Pact marked a shift in my career in many ways. Not only was it the book that put me on the literary map as a writer – it also was the first one that made me fall in love with research. Since writing it, every novel I've tackled has started with hands-on research, experiences that have taken me from courtrooms to prisons, from Amish homes to Eskimo villages to haunted homes.
I think I became a research stickler because I am a careful reader. No one likes to catch a mistake in a book – it makes you feel like the author hasn't done his or her homework, and I've always been a straight-A student…so when I began to write THE PACT, I realized I was going to have to go explore bits of the world that I hadn't yet lived myself.
My first foray into research took place in my own home. Sadly, I was no longer a teenager (as painful as that is to admit). However, I had a great group of babysitters who came regularly to take care of my three children. I asked one of them - a spirited, smart 16 year old – if she'd feel comfortable gathering a group of friends and talking to me about what it was really like, now, to be her age. If they promised to be honest and frank, I promised all the Pepsi and pizza they could consume…and I also promised that what I heard wouldn't leave that room.
Well, I asked the hard questions: How old were you when you first had sex? Why did you do it? Have you ever been depressed? Wanted to kill yourself? Would you tell an adult? Why or why not? Have you used drugs? How old were you? How many phone calls would it take for you to get a gun?
That night when I went up to bed, my husband asked me what I'd learned. I told him…and he got really quiet. "So," he said. "She's never babysitting for us again, right?" Actually, she did – often. She went off to college and became just as brilliant a young woman as I'd expected all along…and I never forgot her generosity and her honesty that night, which in my opinion, is why Em and Chris seem so true-to-life.
My next stop for research was jail. I went to the Grafton County Correctional Facility, a minimum security jail that Chris would have been detained in, had he been awaiting trial. I remember thinking it was a human zoo – the only real rights that the prisoners have is deciding whether or not to come look at you as you pass by. I remember it was very warm, and most prisoners wore only their underwear. And I remember meeting one-on-one with inmates, who told me the details that became integral to Chris's jail experience: how to make a jail tattoo, how to get a spark out of a socket with a lead pencil; how to dry banana peels and roll them up in the pages of the Bible to make a fake cigarette. The remarkable thing about our justice system is that even if Chris were completely innocent, while awaiting trial (if denied bail) he might still wind up bunking with an axe-murderer. I wanted to explore how a normal, everyday kid might be changed by that sort of experience.
Finally, I spent a great deal of time in court, and talking to defense attorneys. There are two kinds – the ones who can explain a client's guilt away by dint of his difficult childhood; and the ones who really don't care whether or not their client is guilty, since they've simply got a job to do. It was the latter attorney that really intrigued me – that hard shell put up against any emotional connection to the client – and that ultimately became the template for Jordan McAfee. One of my favorite little tidbits of legal information actually changed the course of the book. In America, I would never be asked to testify against my husband, if he were charged with a crime. However, I WOULD be called to testify against my kids. I don't know about you…but I'd be far more willing to lock away my husband than any of my children! It was this odd loophole that made me want to write a scene in which a mom (Gus) is forced to either incriminate her child…or to lie on the witness stand.
Book club discussion questions for The Pact
How do you feel the extended family environment created by the Hartes and the Golds affected their children? Did it contribute to Emily's suicide?
Is there such a thing as being too close to another non-blood relative family?
How do you feel Chris handled his guilt? Can he justify helping Emily commit suicide?
How did the marital relationships of the Golds and the Hartes contribute to Gus's and Michael's temptations?
Is Emily correct in beliving she had no other alternatives to suicide? Explain.
Is Melanie justified in her feelings and actions toward the Hartes following Emily's death? What might justify her behavior?
On page 35 is the following statement: "Chris and Emily had grown up with love, with wealth, and with each other. What more could they have needed?"Comment.
In what ways does jail change Chris? In what ways does he benefit from the experience, and in what ways does it hurt him?
Consider the personalities of the Hartes and the Golds. Do opposites attract? Does it make for the best communication in a marriage? How do the events of the book support or deny this thesis?
Where do you see these characters in five years?
Is the punishment meted out to Chris just? In your opinion, is Chris guilty of murder?
Which character in the book is the most adaptable? The least adaptable? Why?
Do you think Chris's trial will affect Jordan's view of the justice system? Explain.
What is the significance of the "blank"piece of paper that Chris finds in the tin can at the end of the book?
The title refers to The Pact between Emily and Chris. Are there other pacts? And what about the subtitle ("A Love Story")?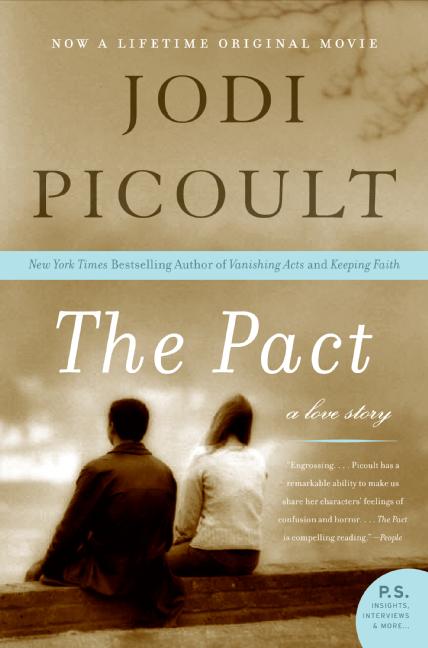 An excerpt from the first chapter of The Pact
Author's Note:
Like everyone, I've joked about my seven-year-old son growing up to marry the daughter of my best friend… which led me to write this book. It's the story of the Hartes and the Golds, two families who've been neighbors and friends forever, and who are thrilled when their eldest offspring begins to date. But then a terrifying phone call comes that makes the parents reevaluate whom, exactly, they can trust… and how well they know their children.
There was nothing left to say.
He covered her body with his, and as she put her arms around him she could picture him in all his incarnations: age five, and still blond; age eleven, sprouting; age thirteen, with the hands of a man. The moon rolled, sloe–eyed in the night sky; and she breathed in the scent of his skin. "I love you," she said.
He kissed her so gently she wondered if she had imagined it. She pulled back slightly, to look into his eyes.
And then there was a shot.
When the telephone rang at three in the morning, James Harte was instantly awake. He tried to imagine what could possibly have gone wrong with Mrs. Greenblatt, because that was his most potentially emergent case. He groped across the bed, across where his wife would have been on a night she wasn't working, for the telephone. "Yes?"
"Is this Mr. Harte?"
"This is Dr. Harte," James amended.
"Dr. Harte, this is Officer Stanley of the Bainbridge Police. Your son has been injured, and he's being taken to Bainbridge Memorial Hospital."
James felt his throat working up sentences that tangled around each other." Is he… was there a car accident?" There was a brief pause. "No, sir," the officer said. James's heart twisted."Thank you," he said, hanging up, although he did not know why he was thanking someone who had brought him such horrible news. The moment the receiver was back in place, he had a thousand questions to ask.. Where was Christopher hurt? Critically or superficially? Was Emily still with him? What had happened? James dressed in the clothes he'd already thrown into the hamper and made his way downstairs in a matter of minutes. The hospital, he knew, would take him seventeen minutes to reach. He was already speeding down Wood Hollow Road when he picked up the car phone and dialed Gus.
"What did they say?" Melanie asked for the tenth time. "What did they say exactly?"
Michael buttoned the fly of his jeans and stuffed his feet into tennis shoes. He remembered, too late, that he didn't have on socks. Fuck the socks. "Michael."
He glanced up."That Em was injured, and that she'd been taken to the hospital." His hands were shaking, yet he was somewhat amazed to find himself able to do what was necessary: push Mel toward the door, find his car keys, plot the fastest route to Bainbridge Memorial.
He had hypothetically wondered what would happen if a phone call came in the middle of the night; a phone call that had the power to render one speechless and disbelieving. He had expected deep down that he'd be a basket case. And yet here he was, backing carefully out of his driveway, holding up well, the only betraying panic a tiny tic in his cheek.
"James operates there," Melanie was saying, a soft, slurred litany. "He'll know who we should contact; what we should do."
"Sweetheart," Michael said, groping for her hand in the dark,"we don't know anything yet." But as he drove past the Harte's house he took in the absolute quiet of the scene, the peaceable lack of light in the windows; and he could not help but feel a stab of jealousy at the normality of it all. Why us? he thought, and did not notice the brake lights of a car at the end of Wood Hollow Road, already turning toward town.
They wouldn't take the lights out of his eyes. The fixtures hung over him, bright silver saucers that made him wince. He could feel at least three people touching him— laying hands, shouting directions, cutting off his clothes. He could not move his arms or legs, and when he tried, he felt straps cutting across them, a collar anchoring his head. "BP's falling," said a woman. "It's only seventy over palp."
"Pupils dilated but unresponsive. Christopher? Christopher? Can you hear me?"
"He's tachycardic. Get me two large–bore IVs, either 14 or 16 gauge, stat. Give him D5 normal saline, wide open for a liter to start with, please. And draw some bloods… get a CBC with diff, platelets, coags, chem–20, UA, tox screen, and send a type and screen to the blood bank."
Then there was a stabbing pain in the crook of his arm and the sharp sound of ripping adhesive tape."What have we got?" asked a new voice, and the woman spoke again. "A holy mess," she said. Chris felt a sharp prick near his forehead, which had him arcing against his restraints and floating back to the soft, warm hands of a nurse. "It's okay, Chris," she soothed. How did they know his name?
"There's some visible cranium. Call radiology, we need them to clear the C–spine."
There was a scurry of noise, of yelling. Chris slid his eyes to the slit in the curtain off to his right and saw his father. This was the hospital; his father worked at a hospital. But he wasn't in his white coat. He was wearing street clothes, a shirt that wasn't even buttoned right. He was standing with Emily's parents, trying to get past a bunch of nurses who wouldn't let him by.
Chris flailed so suddenly he managed to rip the IV out of his arm. He looked directly at Michael Gold and screamed, but there was no sound, no noise, just wave after wave of fear.
"I don't give a fuck about procedure," James Harte said, and then there was a crash of instruments and a scuffle of footsteps that diverted the attention of the nurses enough to let him duck behind the stained curtain. His son was fighting backboard restraints and a Philadelphia collar. There was blood everywhere, all over his face and shirt and neck. "I'm Dr. Harte," he said to the ER physician who was barreling toward them."Courtesy staff," he added. He reached out and firmly grasped Chris's hand. "What's going on?" "EMTs brought him in with a girl," the doctor said quietly. "From what we can see, he's got a scalp laceration. We were about to send him to radiology to check skull and cervical vertebral fractures, and if they report back negative, we'll get him down to CT scan."
James felt Chris squeeze his hand so tightly his wedding band dug into the the skin. Surely, he thought, he's all right if he has this strength. "Emily," Chris whispered hoarsely. "Where'd they take Em?"
"James?" a tentative voice asked. He turned around to see Melanie and Michael hovering at the edge of the curtain, horrified, no doubt, by all that blood. God only knew how they'd gotten past the dragons at triage. "Is Chris all right?"
"He's fine," James said, more to himself than to anyone else. "He's going to be just fine."
A resident hung up a telephone receiver. "Radiology's waiting," she said. The ER doctor nodded toward James."You can go with him," he said. "Keep him calm." James walked beside the gurney, but he did not let go of his son's hand. He began trotting as the ER staff wheeled it more quickly past the Golds. "How's Emily?" he remembered to ask, and disappeared before they could answer. The doctor who'd been attending Chris turned around. "You're Mr. and Mrs. Gold?"
They came forward simultaneously. "Can you step outside with me?"
The doctor led them to a small alcove behind the coffee machines, decorated with nubby blue couches and ugly formica endtables, and Melanie instantly relaxed. She was an professional expert when it came to reading, verbal or nonverbal clues. If they weren't being led to an examination room on the double, the danger must have passed. Maybe Emily was already up on a patient ward, or off to radiology as Chris was. Maybe she was being brought out to meet them.
"Please," the doctor said. "Sit down."
Melanie had every intention of standing, but her knees gave out from beneath her. Michael remained upright, frozen.
"I'm very sorry," the doctor began, the only words that Melanie could not rework into anything but what they signified. She crumpled further, her body folding into itself, until her head was so deeply buried beneath her arms that she could not hear what the man was saying.
"Your daughter was pronounced dead on arrival. There was a gunshot wound to the head. It was instantaneous; she didn't suffer." He paused. "I'm going to need one of you to identify the body."
Michael tried to remember to blink his eyes. Before, it had always been an involuntary act, but right now everything— breathing, standing, being— was strictly tied to his own self–control. "I don't understand," he said, in a voice too high to be his own. "She was with Chris Harte. That other boy." "Yes," the doctor said. "They were brought in together."
"I don't understand," Michael repeated, when what he really meant was, How can she be dead if he's alive?
"Who did it?" Melanie forced out, her teeth clenched around the question as if it was a bone she had to keep possession of. "Who shot her?"
The doctor shook his head. "I don't know, Mrs. Gold. I'm sure the police who were at the scene will be here to talk to you shortly. "Police?
"Are you ready to go?" Michael stared at the doctor, wondering why on earth this man thought he ought to be leaving. Then he remembered. Emily. Her body.
He followed the doctor back into the ER. Was it his imagination or did the nurses look at him differently, now? He passed through cubicles with moaning, damaged, living people and finally stopped in front of a curtain with no noise, no bustle, no activity behind it. The doctor waited until Michael inclined his head, then drew back the blind.
Emily was lying on her back on a table. Michael took a step forward, resting his hand on her hair. Her forehead was smooth, still warm. The doctor was wrong; that was all. She was not dead, she could not be dead, she… He shifted his hand, and her head lolled toward him, allowing him to see the hole above her right ear, the size of a silver dollar, ragged on the edges and matted with dried blood. But no new blood was trickling.
"Mr. Gold?" the doctor said.
Michael nodded and ran out of the examination room. He ran past the man on the stretcher clutching his heart, four times older than Emily would ever be. He ran past the resident carrying a cup of coffee. He ran past Gus Harte, breathless and reaching for him. He picked up speed. Then Michael turned the corner, sank to his knees, and retched.
Gus had run the whole way to Bainbridge Memorial holding hope to her chest, a package that grew heavier and more unwieldy with every step. But James was not in the ER waiting room, and all of her wishes for a manageable injury— a broken arm or a light concussion— had vanished when she'd stumbled upon Michael in the triage area. "Look again,"she demanded of the nurse. "Christopher Harte. He's the son of Dr. James Harte," Gus stressed.
The nurse nodded."He was in here a while ago,"she said. "I just don't know where they've taken him. "She glanced up sympathetically. "Why don't I see if anyone else knows something?"
"Yes,"Gus said as imperiously as she could, wilting as soon as the nurse turned her back.
She let her eyes roam over the serviceable Emergency entranceway, from the empty wheelchairs waiting like wallflowers at a dance, to the television shackled to the ceiling. At the edge of the area, Gus saw a swatch of red fabric. She began to move toward it, recognizing the scarlet overcoat Melanie had found for eighty percent off at Filene's.
"Mel?" Gus whispered. Melanie lifted her head, her face just as stricken as Michael's had been. "Is Emily hurt too?"
Melanie stared at her for a long moment. "No," she said carefully. "Emily is not hurt."
"Oh, thank God—"
"Em,"Melanie interrupted,"is dead."
"What's taking so long?" Gus asked for the third time, pacing in front of the tiny window in the private room that had been assigned to Christopher. "If he's really all right, then how come they haven't brought him back yet?"
James sat in the only chair, his head in his hands. He himself had seen the CT scans, and he'd never looked over one with such a fear of finding an intracranial contusion or an epidural hemorrhage. But Chris's brain was intact; his wounds superficial. They had taken him back to the ER to be stitched up by a surgeon; he would be monitored overnight and then sent for additional tests the next day.
"Did he say anything to you? About what happened?" James shook his head." He was scared, Gus. In pain. I wasn't going to push him. "He stood up and leaned against the door frame. "He asked where they'd brought Emily."
Gus turned slowly. "You didn't tell him,"she said.
"No."James swallowed thickly. "At the time I didn't even think about it. About them being together when this happened."
Gus crossed the room and slipped her arms around James. Even now, he stiffened; he had not been brought up to embrace in public places, and near–death experiences did not alter the rules. "I don't want to think about it,"she murmured, laying her cheek against his back. "I saw Melanie, and I keep imagining how easily that could have been me."
James pushed her away and walked toward the radiator, belching out its heat. "What the hell were they thinking, driving through a bad neighborhood?" "What neighborhood?" Gus said, seizing on the new detail. "Where did the ambulance come in from?"
James turned to her. "I don't know,"he said. "I just assumed." Suddenly she was a woman with a mission. "I could go back down to Emergency while we're waiting,"Gus said. "They have to have that sort of information logged. "She strode purposefully toward the door, but as she went to pull it, it opened from the outside. A male orderly wheeled in Chris, his head swathed in thick white bandages.
She was rooted to the floor, unable to connect this sunken boy with the strong son who had towered over her just that morning. The nurse explained something that Gus didn't bother to listen to, and then she and the orderly left the room.
Gus could hear her own breathing providing a backbeat for the thin drip, drip of Chris's IV. His eyes were glassy with sedatives, unfocused with fear. Gus sat down on the edge of the bed and cradled him in her arms. "Ssh," she said, as he started to cry against the front of her sweater, first thin tears and then loud, unstoppable sobs. "It's all right."
Within minutes Chris's hiccups leveled, and his eyes closed. Gus tried to hold him to her, even after his big body went slack in her arms. She glanced at James, who was sitting in the chair beside the hospital bed like a stiff and stoic sentry. He wanted to cry, but he wouldn't. James hadn't cried since he'd been seven.
Gus did not like to cry around him, either. It was not that he ever told her she shouldn't, but the plain fact that he wasn't as visibly upset as she was made her feel foolish rather than sensitive. She bit her lip and pulled open the door of the room, wanting to have her breakdown in private. In the hallway she flattened her palms against the cool cinder block wall and tried to think of just yesterday, when she had gone grocery shopping and had cleaned the downstairs bathroom and had yelled at Chris for leaving the milk out on the kitchen counter all day so it spoiled. Yesterday, when everything had made sense. "Excuse me."
Gus turned her head to see a tall, dark–haired woman. "I'm Detective Marrone of the Bainbridge Police. Would you be Mrs. Harte?"
She nodded and shook the policewoman's hand. "Were you the one who found them?"
"No, I wasn't. But I was called in to the scene. I need to ask you some questions."
"Oh,"Gus said, surprised. "I thought you might be able to answer mine."
Detective Marrone smiled; Gus was momentarily stunned at how beautiful that one transformation made her. "You scratch my back, I'll scratch yours,"she said.
"I can't imagine I'll be much help,"Gus said. "What did you want to know?"
The detective took out a pad and a pen. "Did your son tell you he was going out tonight?"
"Yes."
"Did he tell you where he was going?"
"No," Gus said. "But he's seventeen, and he's always been very responsible. "She glanced at the hospital room door. "Until tonight," she added.
"Uh–huh. Did you know Emily Gold, Mrs. Harte?" Gus immediately felt tears well in her eyes. Embarrassed, she swiped at them with the backs of her hands."Yes,"she said. "Em is… was like a daughter to me."
"And what was she to your son?"
"His girlfriend."Gus was more confused now than before. Had Emily been involved in something illegal? Was that why Chris had been driving through a bad neighborhood?
She did not realize that she'd spoken aloud until Detective Marrone's brows drew together."A bad neighborhood?"
"Well,"Gus said, coloring."We know there was a gun involved."The detective snapped shut her notebook and started for the door."I'd like to talk to Chris now,"she said.
"You can't,"Gus insisted, blocking the other woman's way."He's asleep. He needs his rest. Besides, he doesn't even know about Emily yet. We couldn't tell him, not like this. He loved her."
Detective Marrone stared at Gus. "Maybe," she said. "But he also may have shot her."