LEAVING TIME… spread the word!
I am so excited about my new novel LEAVING TIME which goes on sale October 14th. I can't wait for you to read it…but I'm impatient! I want you to meet Alice Metcalf, one of the characters in LEAVING TIME, sooner! So I wrote a special eBook novella called "LARGER THAN LIFE" so you can get to know her.
Please spread the word about LEAVING TIME by sharing THIS image NOW on Facebook, Twitter, and Instagram with the hashtag #LeavingTime. Adding LEAVING TIME to your bookshelf on GoodReads counts, too!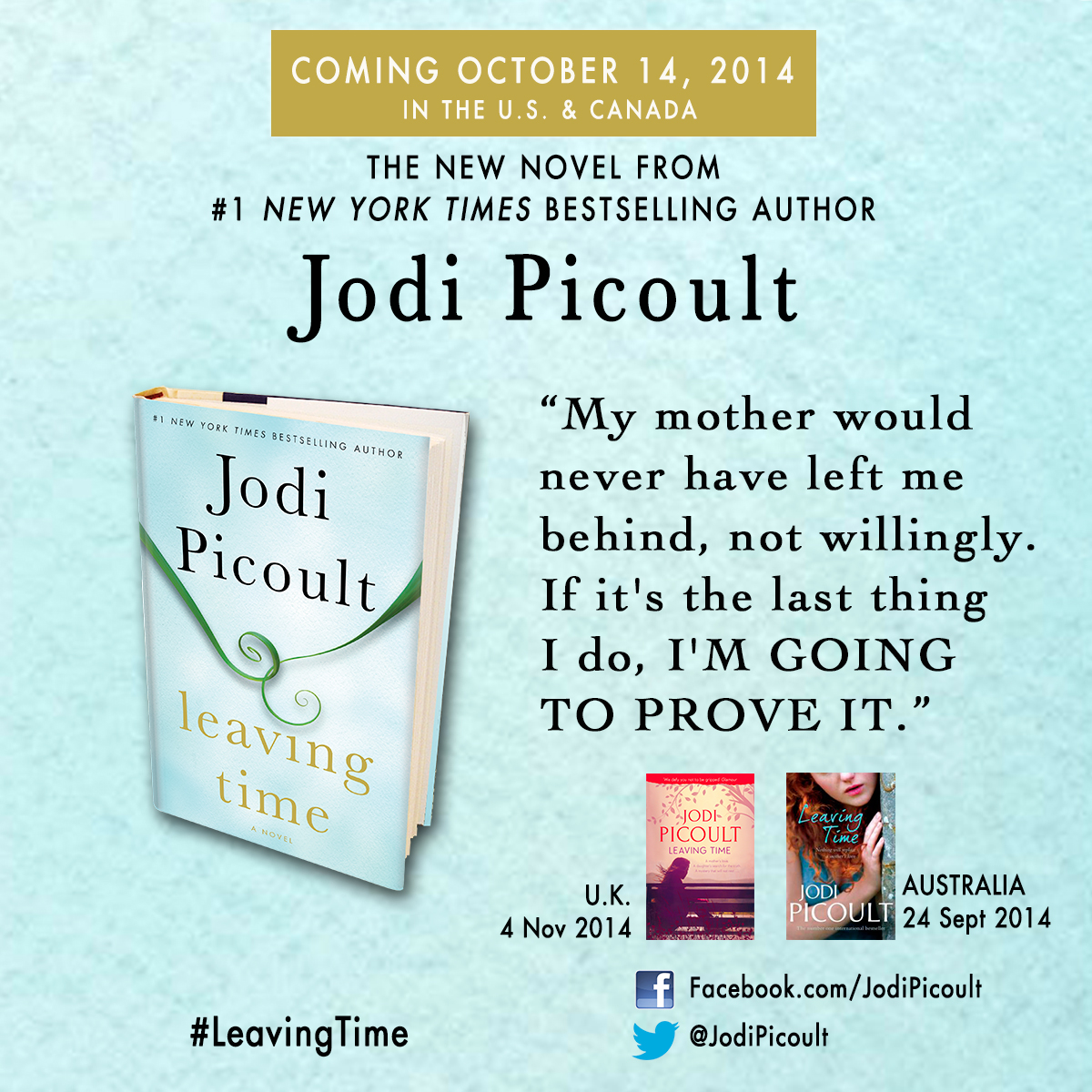 IF LEAVING TIME gets 15,000 online mentions between 7/21-7/27, you will be able to download "LARGER THAN LIFE" from your favorite eBook retailer for FREE from 8/4-8/9. (It will be $1.99 after that, £1.49 in the UK) Thanks for spreading the word!
Where There's Smoke!
Introducing my brand new FREE eShort, Where There's Smoke.
DOWNLOAD WHERE THERE'S SMOKE »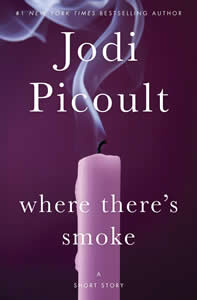 Meet Serenity Jones -- one of the three narrators in LEAVING TIME, my upcoming October 2014 novel.
Even as a child, Serenity Jones knew she possessed unusual psychic gifts. Now, decades later, she's an acclaimed medium and host of her own widely viewed TV show, where she delivers messages to the living from loved ones who have passed. Lately, though, her efforts to boost ratings and garner fame have compromised her clairvoyant instincts. When Serenity books a young war widow to appear as a guest, the episode quickly unravels, stirring up troubling controversy. And as she tries to undo the damage—to both her reputation and her show—Serenity finds that pride comes at a high price.
---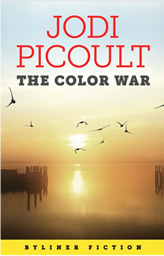 THE COLOR WAR
Check out my new short story, THE COLOR WAR —a moving story about the summer that changed a boy's life forever. This coming of age story reveals an America where the lines between black and white, rich and poor, and insider and outsider too often divide minds and hearts and separate a child from his own sense of promise.
Download the eShort…
—on your Kindle, your Nook, Kobo, or from iTunes. I hope you enjoy it!
---
BYE BYE MESSAGE BOARDS

The times, they are a changin'! After careful consideration, I'll be closing down the message boards on my website on or before May 31. They were set up long before social media existed, but now there are new venues for the conversations my fans have about my books. I look forward to following those threads on my Facebook page and on Twitter instead!
THE STORYTELLER
Take a look at Jodi's new book, The Storyteller – #1 on the New York Times list!, and #1 in the UK and Australia. Sage Singer befriends an old man who's particularly beloved in her community. Josef Weber is everyone's favorite retired teacher and Little League coach and they strike up a friendship at the bakery where Sage works. One day he asks Sage for a favor: to kill him. Shocked, Sage refuses…and then he confesses his darkest secret - he deserves to die, because he was a Nazi SS guard. Complicating the matter? Sage's grandmother is a Holocaust survivor. What do you do when evil lives next door?
Keep an eye out for the BETWEEN THE LINES paperback... coming May 7! Thank you to all my readers who made THE STORYTELLER #1 in the US, Canada, UK, Ireland, Australia, NZ, and South Africa!
What others are saying about The Storyteller…
"This is a powerful and riveting, sometimes gut-wrenching, read, in which the always compelling Picoult brings a fresh perspective to an oft-explored topic."

—Booklist
"Picoult is no stranger to tackling difficult issues. Her latest page-turner confronts the oft-explored subject of the Holocaust with skill, starkness, and tremendous sensitivity. The characters' stories are compelling, but the stellar storyteller here is Picoult, who braids the quartet of intersecting tales into a powerful allegory of loss, forgiveness, and the ultimate humanity of us all. Her myriad fans are in for satisfying doses of everything they've come to expect from her: compulsive readability, impeccable research, and a gut-wrenching Aha! of an ending."

— STARRED REVIEW, Library Journal
---
My 2012 novel, LONE WOLF, looks at the intersection between medical science and moral choices.
Lone Wolf raises three thought-provoking questions:
If we can keep people who have no hope for recovery alive artificially, should they also be allowed to die artificially?
Does the potential to save someone else's life with a donated organ balance the act of hastening another's death?
When a father's life hangs in the balance, which sibling should get to decide his fate?
What others are saying about Lone Wolf…
"Picoult returns with two provocative questions: can a human join a wolf pack, and who has the right to make end-of-life decisions? ... Picoult as usual probes intriguing matters of the heart while introducing her fans to subjects they might not otherwise explore. You can always count on Picoult for a terrific page-turner about a compelling subject."

— Publishers Weekly

"Picoult's impressive research into wolf biology, hierarchy and pack mentality ultimately forms a plausible and highly informative story. …. Picoult portrays the human world and its petty paperwork as significantly less dignified (then wolves). This is a heartbreaking story told in engaging prose."

— IMAGE Magazine…
---
Between the Lines
The paperback of Between the Lines is coming in May 2013.